After one of the most brutal winters of my life, I have never been so ready for SPRING! In February,
Astleigh
and I decided to invite other women bloggers to join up with us for the Spring Cheer Exchange! We had a $15 price limit to buy some spring-themed goodies and mail them to our assigned person. Today, the twenty-five of us are linking up our blogs to share what was in our fun packages!
I cannot wait to see all of the Spring Cheer boxes today! Be sure to grab the button below, and add it to your blog post by copying and pasting the code!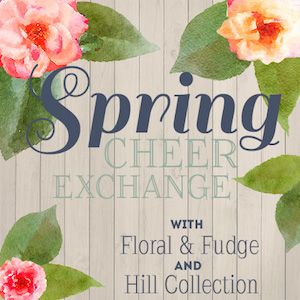 My Spring Cheer package arrived last week from
Cory
(
Playdates and Prescriptions
), and I was SO excited to see what was inside! She went with a fun pink and purple theme, and what she chose was perfect for me!
My favorite thing in the package was this sweet little ceramic bunny to add to my Easter décor! The back is meant for a little votive candle. And the best part—I had just bought
this bunny
and
this bunny
from Target—and the new little guy matches them perfectly!
Yum! Brightly colored jellybeans for the win!
She also sent this beautiful purple notebook with gold metallic polka dots, and BIC "For Her" pink and purple pens! I am an avid list-maker and doodler, so I always get excited about fancy paper and pens :)
I sent a Spring Cheer package out to a
blog friend
in Canada! I chose everything to be a bright green with a pop of hot pink. As I'm typing this I realize those were my wedding colors ;)
Thanks to all of you who participated in spreading the Spring Cheer!! I hope that you make a new friend or two from being a part of the exchange! If you're Instagramming a photo of your package too, use the hashtag: #SpringCheerExchange2015 :)
Blog about your package, grab the button at the top of the page, and add your link below!

HAPPY (almost) FIRST DAY OF SPRING!
I am an affiliate with Target, and purchases through links in this post could result in a small commission for me. Thank you for your support of this blog :)